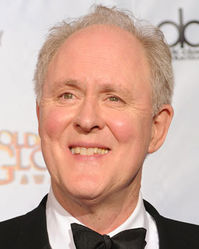 John Arthur Lithgow
(born October 19, 1945) is an American actor, author and musician.
He's known for portraying: Alfred Seguine Kinsey in Kinsey, Arthur Mitchell in Dexter, Ben in Love Is Strange, Blake Edwards in The Life and Death of Peter Sellers, Burke in Blow Out, Charles Rodman in Rise of the Planet of the Apes, Dick Solomon in 3rd Rock from the Sun, Donald in Interstellar, Dr. Carter Nix in Raising Cain, Dr. Emilio Lizardo/Lord John Whorfin in The Adventures of Buckaroo Banzai Across the 8th Dimension, Eric Qualen in Cliffhanger, George Henderson in Harry and the Hendersons, John Valentine in Twilight Zone: The Movie, Reverend Shaw Moore in Footloose, Robert Laselle in Obsession, Roberta Muldoon in The World According to Garp, Sam Burns in Terms of Endearment and Smith Keen in The Pelican Brief.
Filmography
Movies
TV Series
Trivia
Number of acting titles on this wiki: (9)
Years active on this wiki: 1984-2019.
Community content is available under
CC-BY-SA
unless otherwise noted.