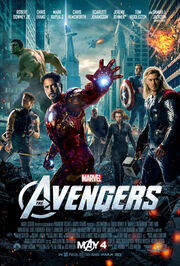 The Avengers
is a 2012 American superhero film written and directed by Joss Whedon based on the Marvel Comics superhero team The Avengers. The film was produced by Marvel Studios and premiered on April 11, 2012 at Hollywood's El Capitan Theatre and was released theatrically in the United States on May 4, 2012 by Walt Disney Studios Motion Pictures.
The film stars: Robert Downey, Jr., Chris Evans, Mark Ruffalo, Chris Hemsworth, Scarlett Johansson, Jeremy Renner, Tom Hiddleston, Clark Gregg, Cobie Smulders, Jenny Agutter, Jerzy Skolimowski with Stellan Skarsgård and Samuel L. Jackson as Nick Fury.
Starring
Cast
The Other - Alexis Denisof
NASA Scientist - Tina Benko
Weaselly Thug - Kirill Nikiforov
Tall Thug - Jeff Wolfe
Young Girl - M'laah Singh
Calcutta Woman - Rashmi Rustagi
World Security Council - Powers Boothe, Arthur Darbinyan, Donald Li
Carrier Bridge Techs - Warren Kole, Alicia Sixtos, Jesse Garcia
Agent Jasper Sitwell - Maximiliano Hernández
Gala Scientist - Dieter Riesle
German Old Man - Kenneth Tigar
Young Shield Pilot - Walter Perez
Security Guard - Harry Dean Stanton
Maintenance Guy - Josh Cowdery
Waitress - Ashley Johnson
Japanese Family - Katsumi Komatsu, Yumiko Komatsu, Momoko Komatsu
Police Sergeant - Robert Clohessy
Young Cop - Enver Gjokaj
Office Woman - Fernanda Toker
News Reporters - Andrea Vecchio, Robin Swoboda
Faceless Pilot - Brent McGee
Celebration Montage Interviewees - Jamie McShane, Michael Zhang, William Christopher Stevens, Kelley Robins Hicks
Shawna Lynde - Romy Rosemont
Senator Boynton - James Eckhouse
Himself - Stan Lee
Himself - Thomas Roberts
Himself - Pat Kiernan
Man#1 - Damion Poitier
Community content is available under
CC-BY-SA
unless otherwise noted.